The newly published report by PrecedenceResearch The report "E-bike Drive Unit Market Size, Share By Product (Mid-Drive Motors and Hub Motors), End-User (OEMs and Aftermarket) – Global Industry Analysis, Trends, Segment Forecasts, Regional Outlook 2020 – 2027″offers a comprehensive analysis on diverse features, including production capacities, demand, product developments, revenue generation, and sales in the E-bike drive unit market across the globe.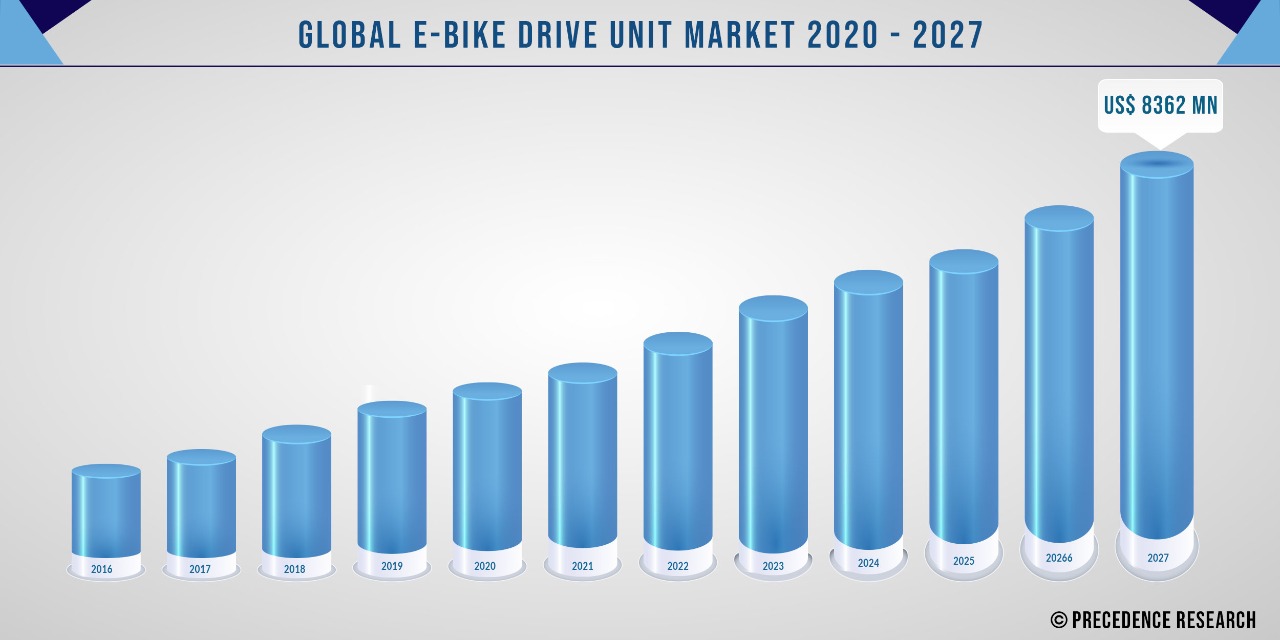 Market Overview
The global E-bike drive unit market is expected to exhibit a steady 4.43% CAGR from 2020 to 2027 and it is projected to reach US$ 8,361 billion by the end of 2027 from US$ 6,199 million in 2019. Vehicle electrification is one of the greatest developments in the automotive power drives sector. Cumulative concern about environmental protection has prompted the battery research that extensively drives the electric mobility across the globe. Among other electric vehicles, electric bicycles (e-bikes) sustained to be the highest selling vehicles across the globe since past decade with a registered sale of more than 30 million in the year 2016. In order to diminish the traffic congestion, bike sharing is a healthy and sustainable choice. With the initiation of bike sharing, the mobility sector is expected to reshape its business model. As per a study released by Roland Berger, bike sharing has grown stupendously in the recent past and is now available in more than 70 countries with a continuous growth of nearly 20% over the analysis years.
In spite of the intensifying growth of e-bike, there are still some gaps and challenges in terms of technology in the existing e-bikes that holds back its growth. Battery maintenance is the major concern in e-bikes due to its limited life span of around 2-3 years particularly for lithium ion batteries. Though, the research in continued for the advancement in lithium ion battery, yet the problem has not been fixed. Apart from battery, motor maintenance is the other foremost concern that holds back the full growth of e-bike, hence affects undesirably to the e-bike drive unit market.
Get Sample Copy of this Report with Global Industry Analysis @ https://www.precedenceresearch.com/sample/1160
Report Highlights
Hub motors are simple in construction, lighter in weight, and inexpensive to the manufacturers due to which it is the most commonly found motors in the e-bike. However, significant number of advantages offered by the mid-drive motors over hub motors expected to drive their demand overt the forthcoming years
Asia Pacific garnered major portion of revenue and consumption share of more than 90% in the year 2019. Noteworthy production of e-bikes in China is the major factor that drives the market growth in the region
Regional Snapshots
Bike sharing services is also on escalation in numerous nations such as the U.S., China, India, and also in European & African countries. As per a survey, Beijing, China has reported a growth of around 200% in the bikeshare riders. In order to accommodate the swelling demand for cycling, several European cities such as Seattle, Paris, London, Bogota, and many other cities have shutdown roads to cars and prop up permanent bike lanes as a new road infrastructure project.
China projected to be the front-runner in the e-bike adoption accounting for more than 90% of the total production and consumption share in 2018. Global market for e-bike expected to foresee robust growth. Protuberant growth is majorly anticipated from the Western Europe and some parts of the Asia Pacific such as Vietnam and Japan. Green mobility drive in Germany is the major influence supporting its extraordinary growth in the country. In 2015, Germany alone accounted for the e-bike unit sales of around 500,000 and expected to grow stupendously over the coming years.
Related Reports
Key Companies & Market Share Insights
E-mobility is the future of the transportation and propulsion system is the heart of each electric-powered vehicle. Hence, to found a strong footmark in the global e-bike drive unit market, manufacturers have implemented various marketing, pricing and other strategies to generate the product differentiation and gain significant foothold in the market. Certain noteworthy players competing in the E-bike Drive Unit market include:
Robert Bosch GmbH
Continental AG
Yamaha Motor Corporation
Panasonic
Shimano
MAHLE GmbH
Giant Bicycles
Bafang Electric (Suzhou) Co., Ltd
Brose Fahrzeugteile SE & Co. KG
Other
Segments Covered in the Report
This research report includes complete assessment of the market with the help of extensive qualitative and quantitative insights, and projections regarding the market. This report offers breakdown of market into prospective and niche sectors. Further, this research study calculates market revenue and its growth trend at global, regional, and country from 2016 to 2027. This report includes market segmentation and its revenue estimation by classifying it on the basis of product, application and region as follows:
By Product Type
Mid-Drive Motors
Hub Motors
By Application
By Regional Outlook
North America
Europe

Germany
France
United Kingdom
Rest of Europe

Asia Pacific

China
Japan
India
Southeast Asia
Rest of Asia Pacific

Latin America

Brazil
Rest of Latin America

Middle East & Africa (MEA)

GCC
North Africa
South Africa
Rest of Middle East & Africa
TABLE OF CONTENT
Chapter 1 Introduction
Chapter 2 Research Methodology
Chapter 3 Executive Summary
Chapter 4 Market Variables and Scope
Chapter 5 COVID 19 Impact on E-bike Drive Unit Market
5.1 COVID-19 Landscape: E-bike Drive Unit Industry Impact
5.2 Covid-19 Impact: Global Major Government Policy
5.3 Market Trends and E-bike Drive Unit Opportunities in the COVID-19 Landscape
Chapter 6 Market Dynamics Analysis and Trends
6.1 E-bike Drive Unit Market Dynamics
6.1.1 Market Drivers
6.1.1.1 Rising Demand for E-Bike
6.1.1.2 Increasing Popularity of Mid-drive Motors
6.1.1.3 Growing Preference for Bicycles as an Eco-friendly Vehicle
6.1.2 Market Restraints
6.1.2.1 Technological Challenges
6.1.3 Market Opportunities
6.1.3.1 Rising Trend of Bike Sharing
6.1.4 Market Challenge
6.1.4.1 Limitation of Distribution Channel
6.2 Porter's Five Forces Analysis
6.2.1 Bargaining power of suppliers
6.2.2 Bargaining power of buyers
6.2.3 Threat of substitute
6.2.4 Threat of new entrants
6.2.5 Degree of competition
To Be Continued…
Browse Full TOC Visit Here @ https://www.precedenceresearch.com/table-of-content/1160 
Why should you invest in this report?
If you are aiming to enter the global E-bike drive unit market, this report is a comprehensive guide that provides crystal clear insights into this niche market. All the major application areas for E-bike drive unit are covered in this report and information is given on the important regions of the world where this market is likely to boom during the forecast period of 2020-2027 so that you can plan your strategies to enter this market accordingly.
Besides, through this report, you can have a complete grasp of the level of competition you will be facing in this hugely competitive market and if you are an established player in this market already, this report will help you gauge the strategies that your competitors have adopted to stay as market leaders in this market. For new entrants to this market, the voluminous data provided in this report is invaluable.
Buy this Premium Research Report @ https://www.precedenceresearch.com/checkout/1160
About Us
Precedence Research is a worldwide market research and consulting organization. We give unmatched nature of offering to our customers present all around the globe across industry verticals. Precedence Research has expertise in giving deep-dive market insight along with market intelligence to our customers spread crosswise over various undertakings. We are obliged to serve our different client base present over the enterprises of medicinal services, healthcare, innovation, next-gen technologies, semiconductors, chemicals, automotive, and aerospace & defense, among different ventures, present globally.
Contact Us:
Mr. Alex
Sales Manager
Call: +1 9197 992 333
Email: sales@precedenceresearch.com
Blog: https://precedenceresearchnews.wordpress.com