Healthcare
Regenerative Medicine Market Size, Insight and Forecasts 2030
The regenerative medicine market size is expected to reach around US$ 37.92 billion by 2030, growing at a CAGR of 16.2% every year, according to a 2022 study by Precedence Research, the Canada-based market Insight Company.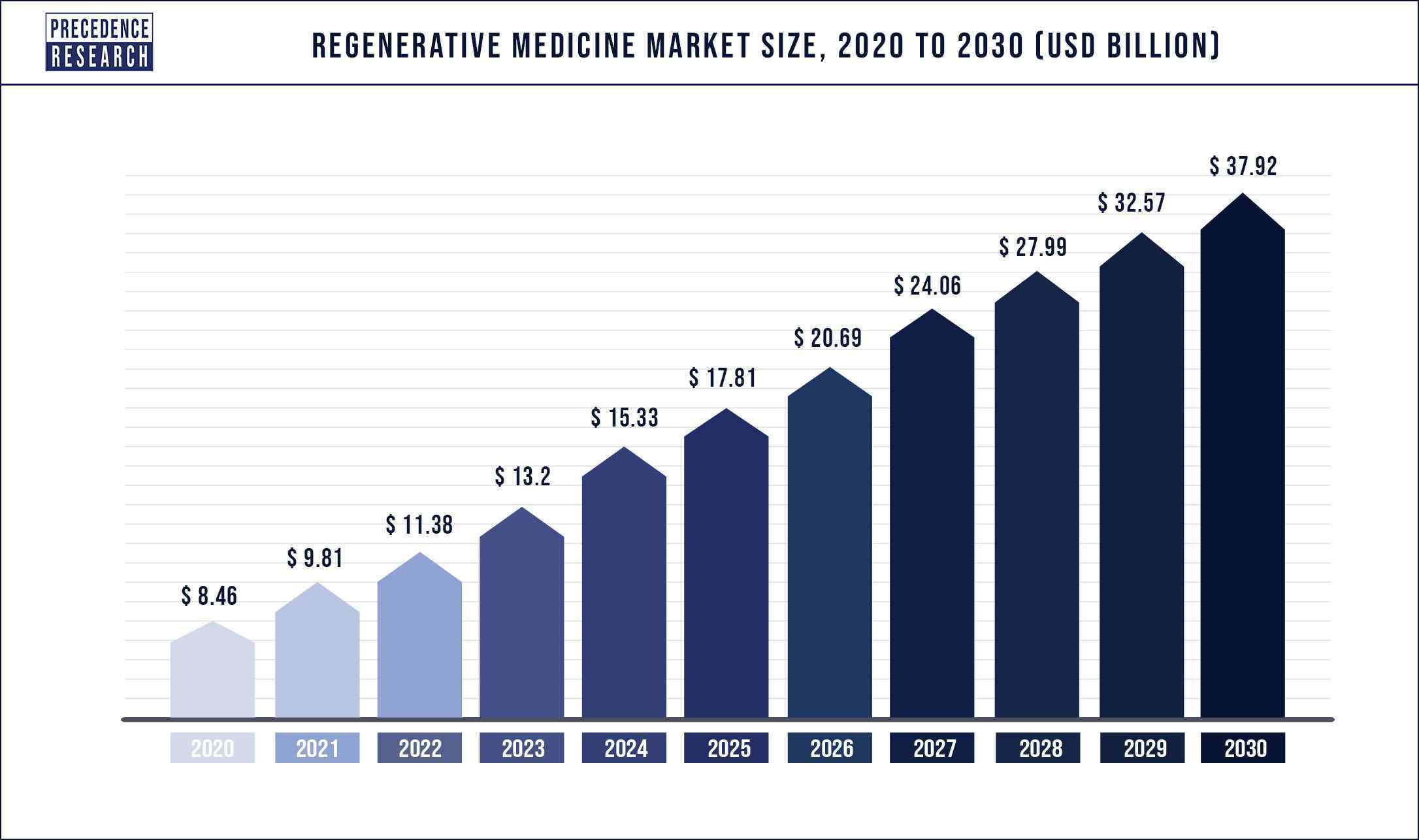 The base year for the study has been considered 2021, the historic year 2017 and 2020, the forecast period considered is from 2022 to 2030. The regenerative medicine market is analyzed on the basis of value (US$ Million), volume (Unit), and price (US$/Unit).
The discovery of medicines that can regenerate tissues and reduce dependency on transplants is motivated by the loss of organs and tissues due to disorder or organ damage. The regenerative medicine is an interdisciplinary field that uses engineering and life science principles to stimulate regeneration in damaged or wounded organs and tissues.
One of the major factors driving the regenerative medicine market growth is the rising prevalence of genetic and chronic disorders. In addition, the growing geriatric population, which is prone to cardiological and oncological problems, is driving the market expansion. As a result, increased organ transplantation acceptance is also contributing the regenerative medicine market growth. The regenerative medicine reduces the chances of the body rejecting the organ after transplantation and speeds up the patient's recovery. Other factors such as substantial medical research and development efforts and improved healthcare infrastructure, are expected to fuel the market growth.
Our Free Sample Reports Includes:
In-depth Industry Analysis, Introduction, Overview, and COVID-19 Pandemic Outbreak.
Impact Analysis 180+ Pages Research Report (Including latest research).
Provide chapter-wise guidance on request 2021 Updated Regional Analysis with Graphical Representation of Trends, Size, & Share, Includes Updated List of figures and tables.
Updated Report Includes Major Market Players with their Sales Volume, Business Strategy and Revenue Analysis by using Precedence Research methodology.
Download a FREE Sample Copy (Including TOC, List of Tables & Figures, and Chart) @ https://www.precedenceresearch.com/sample/1176
Regenerative Medicine Market Scope
| | |
| --- | --- |
| Report Scope | Details |
| Market Size in 2030 | USD 37.92 Billion |
| Growth Rate from 2021 to 2030 | CAGR of 16.2% |
| Largest Market | North America |
| Base Year | 2021 |
Regenerative Medicine Market Report Highlights
Based on the product, the therapeutics segment dominated the global regenerative medicine market in 2021 with highest market share 57%. The primary cell-based therapies are the most developed medicines accessible in the therapeutics sector, owing to their use for a variety of therapeutic purposes.
Based on the application, the musculoskeletal segment is estimated to be the most opportunistic segment during the forecast period. This is due to the rising frequency of orthopedic diseases, the growing number of clinical trials, the rising number of stem cell research projects, and the extensive supply of stem cell products for the treatment of musculoskeletal problems.
North America accounted largest revenue share of over 41% in 2021. The large number of clinical trials in the North America is due to the presence of a significant number of leading market players in the U.S., as well as the presence of research organizations involved in the development of novel treatments and the availability of modern technology.
Asia-Pacific region is the fastest growing region in the regenerative medicine market. The regulatory framework has boosted the number of clinical trials for cell-based and regenerative medicines. As a result, the region's regenerative medicine market has grown. The other factors impacting the growth of the global regenerative medicine market in the Asia-Pacific region include increasing medical demands, rising ageing population, and changing lifestyles.
Regenerative Medicine Market Dynamics
Drivers
Growing geriatric population
The elderly or senior population is rapidly increasing. According to the World Health Organization (WHO), the number of people aged 65 and up is expected to increase by around 1.5 billion by 2050. In developing countries such as China, Japan, India, and South Korea, the figure is expected to rise. Cancer, diabetes, high blood pressure, and blood sugar levels are just a few of the health issues that the geriatric population faces. They need to be more cautious about their health. As a result, they require medications at regular intervals. As a result, during the forecast period, the growing geriatric population will drive the growth of the regenerative medicine market.
Restraints
High cost of therapies
For patients suffering from terminal illnesses and major ailments, gene and cell therapies are a tremendous achievement in the field of medical. These treatments are assisting in the transformation of how diseases are treated and cured. Despite the fact that these therapies are extremely helpful in saving lives, the demand for these therapies is lower than anticipated. This is due to the high prices of these therapies, which is restricting the market growth.
Read Also: Automotive Wiring Harness Market Size to Worth Around US$ 79 Bn by 2027
Opportunities
Increasing product acceptance for cancer immunotherapy
Cancer is caused by the transformation of normal cells into tumor cells over the course of a multi-stage process that typically begins with a precancerous lesion and progresses to a malignant tumor. These changes are caused by the interaction of a person's hereditary factors. Cancer is the leading cause of death worldwide, accounting for roughly 10 million deaths by 2020. Because each type of cancer requires a unique treatment plan, a correct cancer diagnosis is critical for appropriate and effective treatment.
Chemotherapy, radiotherapy, and surgery are common cancer treatments. Cancer immunotherapy using regenerative medicine has the advantage of being able to target and eliminate disease cells because of the inherent ability of hematopoietic stem or more mature cells. It also allows for a better understanding of cancer cells, which aids in the development of effective treatments. As a result, rising product demand for cancer treatment, combined with rising disease prevalence, will create opportunities for the market expansion.
Challenges
Stringent government regulations
The use of regenerative medicine in many developed and developing regions requires government approval. The regenerative medicine products require Food and Drug Administration (FDA) license or approval for marketing and sales. Thus, the stringent government regulations are biggest challenge for the growth of the market.
Top Players contending in the Regenerative Medicine Market:
Integra LifeSciences Corporation
Aspect Biosystems
Amgen, Inc.
Medtronic plc
AstraZeneca
Novartis AG
Smith & Nephew plc
MiMedx Group
Shenzhen SibionoGeneTech Co., Ltd.
Baxter
Regenerative Medicine Market Segments
By Product
Gene Therapies
Cell Therapies
Tissue-Engineering
Progenitor and Stem Cell Therapies
Others
By Application
Wound Care
Musculoskeletal
Ophthalmology
Oncology
Cardiovascular
Others
By Geography
North America
Europe

Germany
France
United Kingdom
Rest of Europe

Asia Pacific

China
Japan
India
Southeast Asia
Rest of Asia Pacific

Latin America

Brazil
Rest of Latin America

Middle East & Africa (MEA)

GCC
North Africa
South Africa
Rest of Middle East & Africa
Thanks for reading you can also get individual chapter-wise sections or region-wise report versions such as North America, Europe, or the Asia Pacific.
You can place an order or ask any questions, please feel free to contact at sales@precedenceresearch.com | +1 9197 992 333
Frequently Asked Questions:
[sc_fs_multi_faq headline-0="h6″ question-0="What is the growth rate of global regenerative medicine market?" answer-0="The global regenerative medicine market is expected to grow at a CAGR of 16.2% during the forecast period 2021 to 2030. " image-0="" headline-1="h6″ question-1="What is the current size of the global regenerative medicine market?" answer-1="According to Precedence Research, the regenerative medicine market size was valued at USD 9.81 billion in 2021 and is predicted to surpass around USD 37.92 billion by 2030. " image-1="" headline-2="h6″ question-2="What are the growth factors of regenerative medicine market?" answer-2="Factors such as increasing prevalence of chronic disorders and genetic disorders, increasing popularity of stem cells, increasing number of trauma emergencies is driving the growth of regenerative medicine market. The role of regenerative medicine in post trauma recovery is constantly evolving as more and more research is showing positive results. The use of regenerative medicine can be a landmark moment in the history of healthcare that will transform the treatment of chronic ailments and trauma related conditions. Thus, the high incidence of chronic ailments is driving the growth of regenerative medicine market. " image-2="" headline-3="h6″ question-3="What was the North America regenerative medicine market share in 2019?" answer-3="In 2019, North America dominated the global market with a market share of more than 45%. " image-3="" headline-4="h6″ question-4="Which major companies operating in the worldwide regenerative medicine market?" answer-4="The major companies operating in the worldwide regenerative medicine are Integra LifeSciences Corporation, Aspect Biosystems, Amgen, Inc., Medtronic plc, AstraZeneca, Novartis AG, Smith & Nephew plc, MiMedx Group, Shenzhen SibionoGeneTech Co., Ltd., and Baxter among others. " image-4="" headline-5="h6″ question-5="Which segment recorded the prime market share in the global regenerative medicine market in 2019?" answer-5="Tissue-Engineering segment recorded the prime market share in the global regenerative medicine Market in 2019. " image-5="" headline-6="h6″ question-6="What is regenerative medicine?" answer-6="Regenerative medicine is the division of medicine that promote methods to repair, regrow or replace injured or diseased tissues, organs or cells. Regenerative medicine comprises of the formation and use of remedial stem cells, manufacturing of artificial organs, and tissue engineering. The combinations of tissue engineering, cell and gene therapies can strengthen the natural healing procedure in the places it is desired most, or occupy the role of a permanently injured organ. Regenerative medicine is a rather new field that connects experts in chemistry, biology, engineering, computer science, robotics, medicine, genetics and other domains to find explanations to some of the most interesting medical problems confronted by humankind. " image-6=""count="9″ html="true" css_class=""]